Donor Recognition Plaques with Elegant Hand Carved Lettering
Calvo Studio creates and carves the highest quality donor recognition plaques. Our studio specializes in donor and dedication plaques. Our hardwood plaques are completely hand carved by European trained woodcarvers. They require a high level of artistic skill and aptitude reminiscent of old craftsmanship that is impossible to imitate by machine. We hand cut lettering in beautiful hardwoods such as Mahogany, Quartersawn White Qak, Maple or Alder to name a few. Our studio designs plaques in both classical styles as well as imaginative contemporary designs. During the design stages of each plaque we can offer the possiblities of adding ornamental details found in the surrounding architecture and incorporate them into the plaque design. We give special attention to elegant finishes that enchance the natural warmth of wood.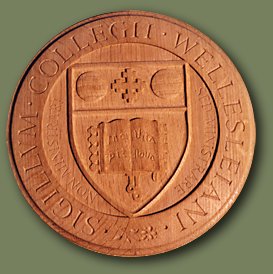 The results are striking; crisp, elegant lettering and the natural warmth of wood combine to make an impressive eye-catching statement.

Carved Signs and Quarterboards
Calvo Studio does an array of creative wood carved signs and quarterboards. Some of the carved wood sign designs are part graphics and part sculpture, others follow in the quarterboards style found on Nantucket or Cape Cod. For outside signage, I tend to use mahogany as a material because it is the most durable for our climate in New England with the least amount of expansion and contraction. I also use boat finishes because I feel they have a better mechanical bond with the wood for longevity. Carved signs can have either painted or gold leafed lettering. All said, the sky is the limit as far as creativity goes with the design of your sign or quarterboard.

Relief Portraits or Ornament to Personalize Recognition Plaques
Calvo Studio is also capable of personalizing your plaques with one of the following: a portrait relief of your donor or adding a logo or ornamental details to create a high end signature look. If you are looking for an elegant presentation to impress your donor feel free to contact us to talk about any upcoming projects. Portfolio and information available upon request.

Calvo Studio 235 East Main St. Gloucester, Massachusetts 01930