Formal Education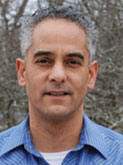 DAVID CALVO has dedicated his professional life to the art of woodcarving and sculpture. In 1974, he started college as a psychology major, but after one year he found philosophy to be a broader, more all incompassing topic so he quietly walked across the school hall and enrolled in the Philosophy department. He graduated with a book of Thoreau in one hand, Walt Whitman in the other, and a degree from the University of Massachusetts in 1979.
Years later, after being in the sculpture field for fifteen years he returned to Graduate School at Boston University. He was accepted into the Divinity school and studied how ancient civilizations used symbols as a organizing force for the individual as they related to themselves and each other. In addition, his study also included how the symbols found in the artwork helped the community as an entity relate and interact to the forces of nature that played out around them without insulation.

Traditional Old-World Wood Carving and Sculpture Training
Calvo has always worked with his hands as long as he can remember. It was during his college years that he borrowed a set of carving tools and started carving to balance out the headiness of a philosophy curriculum. After graduating college, he landed his first job at an established sign carving studio in Boston. By good fortune or the fate of the Gods, he found himself able to live with his cousin who lived right next door to the carving studio. On his first day of work, he rolled out of bed, walked next door and started carving.
Since that serendipitious beginning, David has had the absolute good fortune to trained with woodcarvers and sculptors of the highest European caliber. He has also studied under the late Frederick Brunner who was trained in the French European Woodcarving Apprenticeship System in Metz. David also trained at the renowned Boston Studio of Arcangelo Cascieri and Adio di Biccari where he assisted both principals in a sculpture studio that produced artistic work internationally. Archangelo was trained by the renown German carver Kirchmayer who immigrated to the states. Adio was trained by Federick Allen, Director of the Boston Museum School of Fine Arts and sculpture teacher. Adio was Allen's protege. Both Adio and Archangelo began their studies together in sculpture under renown European Master sculptor Ernest Pellegrini in Cambridge. For anyone as fortunate as Calvo... to be trained under these two Masters of Sculpture is absolute pedigree training.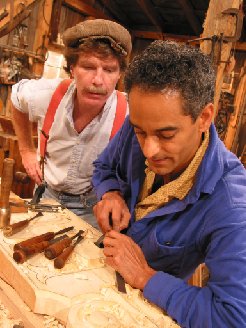 David Calvo with host Roy Underhill on the National
2001 PBS Television Show
"The Woodwright´s Shop"
In addition to his artistic skills, David has extensive training and experience in high-end custom furniture making and design making him a well-rounded artist and craftsman. To complete his studies, David traveled throughout Europe exploring artistic woodcarving and sculptural designs in different cultures.

Passing on the Carving Tradition
David has been a featured master woodcarver at many International Woodworking Trade Shows where he has given woodcarving workshops on woodcarving technique and designing skills. He has also been a featured TV guest on the PBS Television shows: "The Woodwright's Shop" with Roy Underhill and "The American Woodshop" with Scott Phillips.
In addition to running a full time studio, David teaches wood carving and writes articles for national publications to promote and share his skill. He has also recently produced a three part wood carving instruction video series on the most important aspects of wood carving to train the beginner student. David is a sought-after teacher because his unique training is a rarity and he is a natural speaker who has the ability to articulate the mechanics of the skill of wood carving in an easily understood fashion.

Our Reputation Guarantees the Highest Caliber of Workmanship
Calvo Studio designs in many styles, from classical European lines to contemporary abstract thought provoking metaphors. When Harvard University restored Sanders Theatre, its crown jewel of interior design, the University management team and architect did not want to take chances and bid the woodcarving project out for the best pricing. Because of our known caliber, Harvard University assigned Calvo Studio as the designated firm to do all the restoration carving so it would match perfectly the existing exquisite European carving work. We stand by our reputation and your satisfaction.
Today, located in picturesque Gloucester, Massachusetts and with thirty-four years of professional experience Calvo Studio has a national clientele and continues to provide design skills to produce high-end custom wood carving and bronze sculpture that reflects a mature and educated vision.