CALVO WOOD CARVING SCHOOL in Gloucester, Massachusetts is dedicated to the art and skill of wood carving and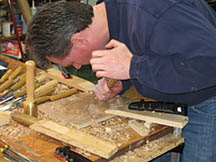 beginner and intermediate student will give you a strong baseline in the fundamentals of carving that can be applied to any style of wood carving design. I am a strong carving technique driven school. This is my focus for you as the student. We do projects as an exercise to help you to understand important hand technique. Our class size is also small so that you are assured continuous one-on-one attention. The teaching style I use is the same as my wood carving teachers who were European trained. I train both your hands to carve and your eyes to see so that you can map your way into a project. It is my goal and hopeful intentions to get you to move beyond your personal expectation and carve with more confidence. In all my years of teaching and to my delight, it is usually the student who is pleasantly more surprised with their own results. All I ask is that you bring your enthusiasm. As the teacher, it's my assignment to figure out how to teach you wood carving... so take a deep breath, relax and enjoy learning the skill of wood carving.

All two, three and five day classes start at 9:00 and run until 5:00pm. Pre-registration is required. The Wood Carving School is in easy driving range from New York,, Rhode Island, New Hampshire, Connecticut, Vermont, Maine, New Jersey and Massachusetts areas. Students flying in are to land at Boston's Logan Airport and drive, or take the commuter train, up to Gloucester. All said, I have taught students from every State in the United States as well as from Canada, Mexico, Hawaii and South Korea.

WOOD CARVING APPRENTICESHIP PROGRAM: I am actively looking for a qualified apprentice with aptitude. This is a program that is a conscious effort to make you a trained, well rounded capable wood carver by assisting me in the studio. It is my hope that you will become fluent with the skill level akin to the old days of training a professional woodcarver.

SKYPE MENTORSHIP PROGRAM: Calvo Studio now offers video conferencing sessions for the student that wants to pursue learning more techniques through ongoing mentoring regardless of distance. Call for more information.

OUR AREA KNOWN AS CAPE ANN,
is a family tourist destination point and was the location for the story and filming of "The Perfect Storm". Our picturesque vacation area offers reasonable accommodations and we are happy to assist you with your housing needs.
FOR VACATION FUN:
There are working artist colonies and studios, galleries, museums, many beaches, marshes for canoes or kayaks, paddle board rentals, shore line and boat sport fishing, schooner sails, scenic boat rides all around Cape Ann, whale watch boats, great restaurants and dining spots, evening music venues, Gloucester stage productions, shopping boutiques, State Cutural Art Districts, historic landmarks and more. Frankly, it's a great tourist spot to visit.

Updated: November 25, 2016
Quick Info and Site Links
• School Tel. 978-283-0231
Discounted School Housing and Tourism Links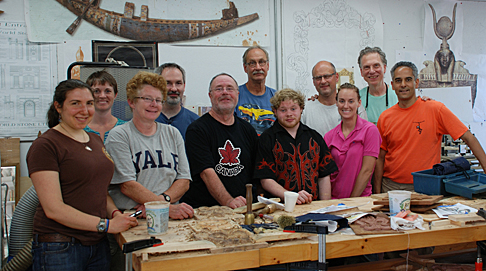 "Your teaching technique had an amazing sense of balance. You have a unique insight that allows you to let us struggle enough to learn from our small mistakes but tells you when to be there to answer any questions and to provide right amount of guidance to prevent us from making big mistakes. I enjoyed your wonderful sense of humor."
John Schnobrich- Redwood Falls, Minnesota
"I wanted to take this opportunity to tell you how much i enjoyed taking the Five-Day Bare bones Wood Carving Class. To be able to spend a few days with a world renowned artist was truly a wonderful experience for me. You are a gifted artist and a very good teacher. You showed a great deal of patience and a strong desigre for us to understand the craft and subject matter. I am going away with a wealth of information that will help me become a more seasoned carver."
Charles Hoffman- Vista, California
• Read what more Students say about Calvo Woodcarving School •
Classes are reserved with a check for the full amount on a first come first serve policy. Spaces are limited. Hotel accomodations are in easy walking distance to the studio. I get a discount rate for my students so housing is very affordable. *We are accessible on the MBTA Commuter Rail with a station here in Gloucester. We welcome your questions and are happy to address any concerns.

Five-Day Bare Bones of Wood Carving Workshops
| | |
| --- | --- |
| April 17-21, 2017 | Five-Day Wood Carving Class Mon - Fri |
| May 10-14, 2017 | Five-Day Wood Carving Class Wed - Sun |
| June 26-30, 2017 | Five-Day Wood Carving Class Mon - Fri |
| July 26-30, 2017 | Five-Day Wood Carving Class Mon - Fri |
| Aug 21-25, 2017 | Five-Day Wood Carving Class Mon - Fri |
| Sept 13-17, 2017 | Five-Day Wood Carving Class Wed - Sun |
Two and Three-Day Wood Carving Classes
| | |
| --- | --- |
| July 29-30, 2017 | Two-Day Wood Carving Class Sat - Sun |
| Aug 24-25, 2017 | Two-Day Wood Carving Class Sat - Sun |
One-Day Introductory Woodcarving Classes
| | |
| --- | --- |
| April 12, 2017 | One-Day Class Sat 10am - 5pm |
| May 13, 2017 | One-Day Class Sat 10am - 5pm |
| June 29, 2017 | One-Day Class Thurs 10am - 5pm |
| July 29, 2017 | One-Day Class Thurs 10am - 5pm |
| Aug 24, 2017 | One-Day Class Thurs 10am - 5pm |
| Sept 16, 2017 | One-Day Class Sat 10am - 5pm |
*Second Level* Five-Day Technique Building Classes
| | |
| --- | --- |
| 2017 Workshops | Second Level Classes run concurrent with the Bare Bones Class. Call for info |
Hand-Carved Keepsake Box Workshop
| | |
| --- | --- |
| TBA | Five-Day Keepsake Carving Class |
Wooden Plane Making Workshop
| | |
| --- | --- |
| TBA | Five-Day Class Wed - Sun |
Carved Cabriole Leg Workshops
| | |
| --- | --- |
| TBA | Five-day Workshop Mon - Fri |
Bowl Carving Workshop
Windsor Chair Workshop
Forging Wood Carving Tools
| | |
| --- | --- |
| Nov 10-12, 2017 | Three-Day Forging Workshop Fri - Sun |
Spoon Making Workshops
December 10, 2016
Saturday 10:00

- 1:30pm

December 11, 2016

Sunday 1:30 - 4:30pm

MORE CLASSES TO BE POSTED
Weekly Wood Carving Classes
| | |
| --- | --- |
| 7:00pm - 9:00pm | Tuesday Evenings |
Price List*
5 Day Bare Bones Wood Carving

Workshop

$675
3 Day Bare Bones Wood Carving Workshop
$450
2 Day Bare Bones Wood Carving Workshop
$325
1 Day Introductory Carving Class
$175
2 Day Sign Carving Workshop
$325
3 Day Forge Your Wood Carving Tools
$450
5 Day Keepsake Box Workshop
$675
5 Day Abstract Wood Sculpture

Workshop

$675
8 Week Evening Wood Carving Classes
$280 or $35.00 per class
3 Day Bowl Carving Class
$450
8 Week Beginner Clay Sculpture Class
$280
*Prices do not include Material Costs or Tool Rental