David Calvo has been enthusiastically teaching wood carving for more than twenty-five years. He was fortunate to be trained by professional European woodcarvers and sculptors. He has been a featured master woodcarver at many International Woodworking Trade Shows where he has given workshops on woodcarving technique and designing skills. David has also been a featured TV guest on the PBS Television shows: "The Woodwright's Shop" with Roy Underhill and "The American Woodshop" with Scott Phillips. He writes articles for national publications to promote and share his skill. He is a sought-after teacher because his unique training is a rarity. He is also natural speaker who has the ability to articulate the mechanics of the skill of wood carving in an easily understood fashion.

TEACHING PROCESS: Over the years, David has honed his step by step teaching process to its simplest form. He teaches his students using one of the most important factors that excelerated his own personal training. His teachers taught him in a straight A-Z line, meaning no detouring from what is essential. Each action is made obvious to you in a logical way and every step is carefully thought out for your benefit. Secondly, the group structure creates an environment to creatively reinforce key points which are so important in advancing each individual student's learning curve. Please read the descriptions of the different classes below and feel free to call the studio for more info.

WOOD CARVING TOOLS: If you have tools bring them. If you need to buy tools, the school has them for purchase on our online store and at the school. If you want to rent tools we offer that as well. Call for more information.
Quick Info and Site Links
•
Tel 978-283-0231 Cell: 978-281-3227
School Discounted Housing and Tourism
Five-Day Bare Bones Wood Carving Classes
The Bare Bones Wood Carving Class will give the beginner carving enthusiast a solid foundation in woodcarving because we address the carving skill from its most simpliest building blocks. No matter what your carving style preference is you need to know the fundamentals of carving technique and you need to know it well. In sports, because woodcarving is part sport, the learning curve of having strong fundamentals is akin to a tennis pro who has trained his tennis volley to be both effortless and graceful. Woodcarving can be effortless and graceful too. This is the romance and attraction of the skill.
WE WILL STUDY AND EXPLORE THE FOLLOWING:
WOOD CARVING TOOL SHARPENING: Learn how to design and sharpen your tool edge so that you have better control and a more versatile woodcarving chisel. I will show you how to sharpen with the proficiency that was used in the European apprenticship programs. I will also incorporate some Japanese sharpening theory because it comes from the samari traditions and is an integral part of their apprenticeship. Sharp tools that easily bite into the wood and do not skate are an important ingredient for woodcarving with intent.

WOOD CARVING TECHNIQUE: Learn how to handle your carving tools in the wood; from roughing out the beginnings of your project to the final delicate detailing. I teach an approach I call "anatomy integration" and it is an integral part of good hand technique. Wood carving is a skill that incorporates the body to better assist your hand control of the gouges. It is like a baseball pitcher throwing you a ball. You swing with the bat and use your body to step into the hit. The same is true in woodcarving, you use your body strength and weight for the cutting action. Simply stated; You don't have to be a physical giant to handle woodcarving tools; it's all in the technique.

YOUR WOOD CARVING PROJECT: In the five-day class each students will complete a few wood carving projects. In addition to practice exercises, you will carve a large fleur-de-lis that contains all the possible carving approaches and a woodcarver's compass to understand wood grain. These are great projects because we can learn all aspects of carving thru them: technique, visual mapping and design elements. Each student does the same project which allows me creatively to keep repeating myself so the information I give you is reinforced. I have time tested this approach over many years and it is highly successful for adults.

ART OF SEEING: Learn the mechanical steps in the process of carving. Often I hear my new students say what I call the beginner's mantra... "What do I do next?" There are mechanical steps to seeing what is the next move in your project. I also work with an approach method I call visual mapping. It is an activity that helps you to move through the progressive steps of your carving project. It is teachable and gaining this skill is critical for the beginner's eye.

DESIGN SKILLS: Learn how to design your wood carving projects using references that many of the great artists used. There are many basic tools and mechanical steps to designing that are unknown to the novice woodcarver. This approach to building your design will expand your imagination and the steps to creating your own projects will start to come more easily to you. Finally, among many other things, you will learn about building contrast in your piece, a necessity to having a striking, attractive look.
This wood carving class will give you the skills to add a creative, personal details to all your wood working projects. The class and workshop formats are two, three or five days in length. Calvo Woodcarving School located in Gloucester, Massachusetts is a convenient commute from Rhode Island, Vermont, New Hampshire, Maine, New Jersey, Connecticut, New York and New York City areas. For those flying in we are located 45 minutes north of Logan Airport in Boston. For more description info click on: The Bare Bones of Wood Carving Article. This wood carving workshop will give you skills that will put you on a whole new level. You will be surprisingly pleased with your new found woodcarving abilities.
Bare Bones of Wood Carving Workshop Schedule
April 17- 21, 2017 Five-Day Wood Carving Workshop Mon - Fri
May 10-14, 2017 Five-Day Wood Carving Workshop Wed - Sun
June 24-28, 2017 Five-Day Wood Carving Workshop Sat - Wed
July 22-26, 2017 Five-Day Wood Carving Workshop Sat - Wed
August 19-23, 2017 Five-Day Wood Carving Workshop Sat - Wed
October 25-29, 2017 Five-Day Wood Carving Workshop Wed - Sun
November 8-12, 2017 Five-Day Wood Carving Workshop Wed - Sun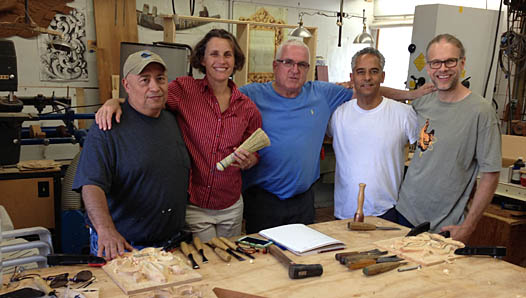 " I have been carving on and off for 30 years, not really knowing which knife or gouge to use. It has been very frustrating to have all these beautiful tools and not know which ones to use. My main reason for joining the class was to learn which tools to use for a particular job and why, as well as knowledge on layout and design. I had so many questions? By the 2nd day I had learned more than I had known in all of my 30 years of carving."
"I live as far north and as far west in the continental United States as you can get without coming back. For me, to travel this far for a class, it's got to be good. I flew over 3000 miles to David Calvo Studio and another 3000 miles back home. I would do it again in a heartbeat. What a great experience!"
Two-Day Wood Carving Workshop
Here is an opportunity in two and three day workshop format for the interested student to learn the fundamentals of woodcarving. These classes are a edited version of my five-day Bare Bone classes. We will cover important hand techniques and sharpening skills so that your tools have the control in cutting that you've dreamt about. Of course, we will do a carving project which is the focus of the class so that you learn about carving with the grain. In woodcarving, you are constantly changing your approach to cut with the grain of the wood.
Two-Day Woodcarving Workshops
May 13-14, 2017 Two-Day Wood Carving Workshop Sat - Sun
JUne 24-25, 2017 Two-Day Wood Carving Workshop Sat - Sun
July 22-23, 2017 Two-Day Wood Carving Workshop Sat - Sun
Aug 19-20, 2017 Two-Day Wood Carving Workshop Sat - Sun
Oct 28-29, 2017 Two-Day Wood Carving Workshop Sat - Sun
Nov 11-12, 2017 Three-Day Wood Carving Workshop Sat - Sun
One-Day Wood Carving Seminars
Introductory Course
If you have had an interest in trying wood carving and are in Gloucester for the day, weekend or vacationing then this might be just for you. Here is a wonderful opportunity for you as an interested student to get the basic understanding of all aspects involved in learning the wood carving skill. Understanding tool design, wood structure, basic hand carving technique and designing skills; these are some of the topics for discussion. In this class you will do a wood carving project to practice your new skills. This one-day course includes the use of wood carving tools here at the school. Material cost is $15.00.
"Bob and I want to thank you for the wonderful class! We learned so much from you. You are such a good teacher -- you convey that sense that all people can learn -- such an important part of the beginning of any learning experience. I feel so fortunate to have been a student today in your class. We certainly will tell others about you, and we will look into summer classes when time relaxes a little. Again, thank you so much."
With appreciation,
Linda and Bob Vaden-Goad
One-Day Introductory Wood Carving Seminars
March 18, 2017 One-Day Class Sat 10:00am - 5:00pm
April 20, 2017 One-Day Class Sat 9:30am - 5:00pm
May 13, 2017 One-Day Class Sat 9:30:am - 5:00pm
June 25, 2017 One-Day Class Sun 9:30:am - 5:00pm
July 23, 2017 One-Day Class Sun 9:30am - 5:00pm
Aug 20, 2017 One-Day Class Sun 9:30am - 5:00pm
Oct 28, 2017 One-Day Class Sat 10:00am - 5:00pm
Nov 11, 2017 One-Day Class Sat 10:00am - 5:00pm
*Second Level* Technique Building Classes
Here is an opportunity to develop your woodcarving skills by becoming more aware of technique and design through progressively more challenging skills. Here we will work around your interests regarding a project. It could be a mirror design, a ball and claw foot or a more complicated ornamental design. Mature carving is built on learning the subtleties of the skill. We will build on the fundamentals that you learned in my beginners course. Among many things, we will work more with the mechanics of your hand technique focusing on intentional controlled cuts. We will continue to train your eyes in aspects of visual mapping or what I call the mantra of the beginner woodcarver - What do I do next? This course will focus on the next set of techniques that are key for you to unlock a new door in becoming a better woodcarver.
* Second Level * Five Day Hand Technique Classes
Second Level classes run concurrent with Bare Bones classes. Please call regarding the project and more information
Hand Carved Keepsake Box Workshop
Here is an opportunity to make a beautiful decorative box with hand cut dovetail joints, brass hinges and most importantly hand-carved decoration on the surface. It will be a learning project for the techniques but it will also become a little showpiece for your home. You can also put lettering on it instead if you would like to learn more about carved letters. This class will start to give you experience in how to integrate carving and lettering into your woodworking projects by walking through the steps and seeing the final results. You will then take this skill set home. Woodworking is built on box designs and we will add the contrast of curves with the woodcarving:one will make the other look better. So if you took the beginner's barebones class and want to proceed to projects to become more proficient this might be the class for you.
Five-Day Hand Carved Keepsake Box Workshop
July 8-12, 2017 Saturday - Wednesday
Carving Your Own Sign Workshop
Three-Day Workshop
Here is an opportunity to learn letter carving and design that lends itself to creative sign making. I first started out in woodcarving in 1979 as a sign carver and have done many signs for commercial and residental settings. That said, you can also do lettering work on furniture projects such as Hope Chests or anything you might want to personalize to add to the overall design.
Three-Day Sign Carving Workshop
April 28-30, 2017 Friday - Sunday
Sept 1-3, 2017 Friday - Sunday
Wooden Plane Making Workshop
New Class for 2017
New class for 2017. We will be making wooden planes in the Krenov Style. You will treasure these planes. In addition to the contruction and tuning you can also add carving detail to personalize it even more. I think this is going to be a great class
Plane Making Workshop
August 4-6, 2017 Friday - Sunday
Weekly Wood Carving Classes
Ongoing Weekly Classes
For those of you local enough here is an opportunity to learn your woodcarving skills on a week by week basis. Read the bare bones discription becays we will be following that format at a casual pace. The main difference is that you will be able to work on your projects at home as well. This is a unique opportunity for you to learn next to a skilled professional carver. The cost of each class is $35 if you pay as you go and $280 if you sign up for a eight-week session.
Weekly Wood Carving Classes
Tuesday Evenings: 7pm - 9:00pm Fall class starting September 26th
Basketry Workshop
One Day Workshops
Guest instructor - Dianne Stanton
Dianne's vast wealth of knowledge in all styles of basketry is evident, as her repertoire of classes ranges from barks to black ash, from twining to twill, hand-shaping and Nantuckets. Inspiration for her artwork comes from nature, Native American basketry, and her family. She has taught at major basketry conferences throughout the country, as well as in Canada and Japan. Dianne has been making baskets since 1977.
Basketry Workshops
April 8, 2017 Saturday
May 6, 2017 Saturday
July 15, 2017 Saturday
August 26, 2017 Saturday
October 21, 2017 Saturday
Creative Spoon Making Workshop
Half Day Classes and Full Day Workshops
Here is a wonderful opportunity for you as an interested student to get the basic understanding of all aspects involved in learning the wood carving skill. This is a fun class to make a wooden spoon that you will be able to take home and use that night. This half-day or full -day class includes your tools for use in class and your project materials. All you need to do is show up with your enthusiasm.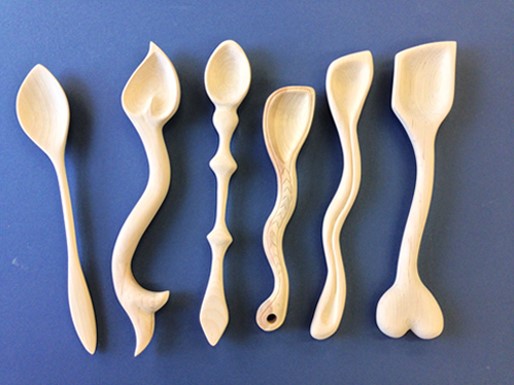 Spoon Making Classes
February 4, 2017 Saturday 10:00am - 1:30pm
February 18, 2017 Saturday 10:00am - 1:30pm
March 18, 2017 Saturday 1:30pm - 4:00pm
April 21, 2017 Friday 10:00am - 1:30pm
May 13, 2017 Saturday 1:30pm - 4:30pm
June 25, 2017 Sunday 9:30pm - 4:30pm 1/2 Day starts 1:30pm
July 23, 2017 Saturday 9:30pm - 5:00pm 1/2 Day starts 1:30pm
August 13, 2017 Sunday 9:30pm - 5:00pm 1/2 Day starts 1:30pm
September 16, 2017 Sunday 9:30pm - 5:00pm 1/2 Day starts 1:30pm
October 28, 2017 Saturday 9:30pm - 5:00pm 1/2 Day starts 1:30pm
November 11, 2017 Saturday 9:30pm - 5:00pm 1/2 Day starts 1:30pm
December 9, 2017 Saturday 9:30pm - 5:00pm 1/2 Day starts 1:30pm
Twelve-Day Carved Frame Intensive Workshop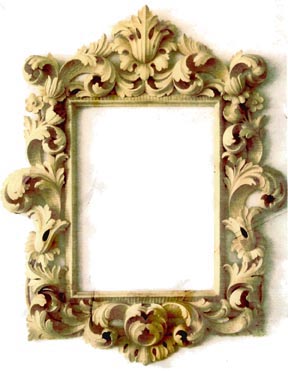 This course is one of a series of project related classes. Here is a class that can challenge the adventurous. This carved frame will look wonderful when completed in your home. This class takes what you have learned in the Beginners Bare Bones Class as well as your intermediate skills and puts them to the test. Carving this frame will introduce new challenges. You will be working on a machine carved roughout of the frame. It is a twelve day course and we will work with some diligence to get you the skills necessary to carve this type of open style design. I know it is challenging but I feel it is doable given we are working with a roughout. If we break it down into small steps and work together we should be able to do it. My feeling is... if they were able to build the pyramids in Egypt we should be able to get each of you to this goal line. Stock fees for machine roughout will be added to this project.
Twelve-Day Decorative Carved Frame Workshop
TBA Call for more information
Five-Day Cabriole Leg Carving Workshop


This course is for those students who are looking for training in traditional furniture making skills. We will be doing the knee carving and full leg of a cabriole leg. You will be working from four machine carved legs so the general carved ornament will already be established as a beginning point and reference. You will do one leg as an exercise in basswood to get comfortable with the technique and then you will do three others in Mahogany that can be added to any of your future traditional furniture projects. Here is a good opportunity to introduce yourself to carving which was so much a part of the traditional craftsman's skill. Carving, in the traditional sense, was added to furniture because most furniture design was made up of straight geometric lines. Woodcarving was based on curve lines and thus added emblishments that would add to the overall beauty and contrast the straight lines of the furniture design. So the experienced furniture maker was also and avid woodcarver as well. I have two dates established for this class if you would like to continue with your skill or do a blanket chest panel carving for a future project as well. Call for more info.
Five-Day Cabriole Leg Carving Workshop
TBA Wednesday - Sunday
Five-Day Abstract Wood Sculpture Workshop
Let Your instincts lead the Design Process
Let us abandon the formality of classical design as a handicap and see where our imagination will take us.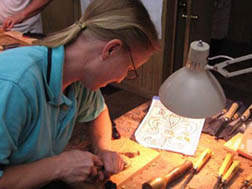 We will use our wood carving tools, rasps and spokeshaves. We will study slides of modern designs and see what are the building blocks to an attractive design. This is key to giving you insight into how to approach abstract design. After study, observation and group discussion we will let our instincts lead as the idea evolves everyday as the week progresses. Some of the best ideas have humble beginnings. So lets see where the week takes us as we pursue the beauty of abstract art. You will have a work of art to take home with you.
Abstract Wood Carving Workshop
August 7-11, 2017 Monday - Saturday
Forge Your Own Wood Carving Tools
You will cherish these hand forged tools

My German wood carving teacher, Frederick Brunner, forged all his own woodcarving tools. On evening, he proudly showed me the first tool he had ever forged that he used into his eighties. He was not only an able artist but he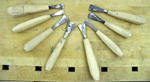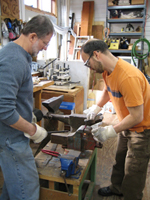 was also an expert mechanic in the woodcarving field as well. Surprisingly, you can get set up with a small tabletop propane forge for little money, and honestly, there is absolutely nothing more satisfying than carving wood with a tool that you have made. Learning how to forge your own wood carving tools will complete your skill set as a woodcarver. You will learn metal forging techniques, methods in how to shape the tool steel using heat. We will go over the hardening and heat treating process. You will learn how to refine the tool steel design and tempering. This is a excellent forum for the study and understanding of good tool design necessary for the control needed in wood carving. Finally, you will learn how to put handles on you new carving tools and sharpening techniques. Once you experience the joy of forging your own tools, you will never go back to a store bought tools again. I can honestly say that you will treasure your hand forged tools and they will become the favorites of your collection. Guaranteed. This forging class starts on Friday night and continues until Sunday afternoon. We work Saturday night as well because darkness is the blacksmith's partner.
Three-Day Wood Carving Tool Forging Classes
October 13-15, 2017 Fri - Sun
Beginner's Sculpture Classes in Clay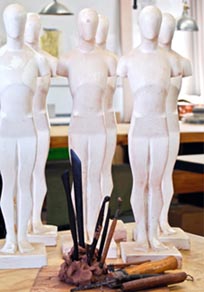 Here is a class for the student who want to begin to learn how to see sculptural and abstract shapes. The human form is a wonderful exercise to use in mastering how to exercise seeing and understand design. When I was studying woodcarving I also did clay modeling at the same time as well. It gave me that advantage of seeing form from the inside out by modeling shapes in clay. So here is a class to teach you to understand the art of making sculpture and also to help you with the ability to design. This is the same as I did in my apprenticeship. It was how I built my abilities in the skill of seeing. I guarantee that working with clay and the human form will heighten your confidence and strenghten your artistic skills dramatically. We will work from the study cast of the human form (seen in the photo above) and it will give you the opportunity to explore the principles of how to model clay, visual mapping and study the ideas of balance, composition and proportions.
Intro Sculpture Class: Modeling the Figure in Clay
TBA
Northwest Style Carving Workshop
Wood Carving Apprenticeship Program
I am actively looking for a qualified apprentice with aptitude. This is a tuition program or barter if you have good administrative skills and know Photoshop and Illustrator. This is a conscious effort to make you a trained, well rounded capable wood carver by assisting me in the studio. I have logging available for you during your stay here so this is a total immersion program.
Skype Mentorship Program
Calvo Studio now offers a Skype Video Conferencing Program for the interested student. This can be a vehicle to extensd your learning beyond the five day classes. These are tutorial video conferencing sessions that are project and technique oriented for the student who wants to pursue learning more techniques through ongoing mentoring program regardless of distance. Call for more information.9/20/17
Bring David Calvo To Your Area
Here is an opportunity to bring David Calvo and the Five-Day Bare Bones of Woodcarving to your area. If you can generate enough interest and can secure a workshop setting for the class, David is willing to make the trip to your location to teach the class. Call for more details regarding shop needs, group size and costs.
Note: Classes are subject to cancellation based on attendance.